Teviot Brook Cat's Claw Control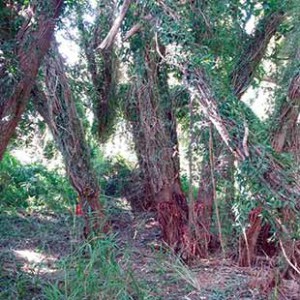 Trees Land Carbon was given the task to control Cat's Claw Creeper (Macfadyena unguis-cati) along the upper Teviot Brook.
Cat's claw creeper is a native vine of Central America and was introduced as a garden plant.  It is now listed as a Class 3 pest plant.
Cat's claw creeper grows up and smoothers native trees and shrubs.  The vine has a bright yellow flower in Spring and produces a long pod with papery seeds that spread by wind and water.
Control of the mature vine was by the cut stump technique using hand saws, chainsaws, and cane knives.  3 years of follow up weed control is required to eradicate the area of liana regrowth, young seedlings, and soil seed germination.
---
Fassifern Reserve Revegetation
Fassifern reserve is a 13ha area at the corner of Cunningham Hwy and the Boonah-Fassifern Rd.  The area is regularly used by travellers as a rest stop with overnight camping facilities.  Koalas also use the mature blue gums as feed trees and habitat.
3ha have been revegetated by the Boonah Organisation for a Sustainable Shire community group and volunteers.  A variety of trees and shrubs were planted to provide future habitat for the koalas, birds and other animals.  Various tasks of woody weed control have been undertaken by Trees Land Carbon to allow future revegetation projects.
The woody weeds controlled have been Chinese Celtis (Celtis senesis), Wild Tobacco (Solanum mauritianum), and some Lantana (Lantana camara).
Future activities at the reserve will include continued control of the woody weeds and control of the Giant Reed (Arundo donax).  Giant Reed is a tall fast growing grass that is rapidly spreading downstream along the Warrill Creek; it is a major weed and requires immediate attention.
---
Teviot Range Brigalow Scrub Revegetation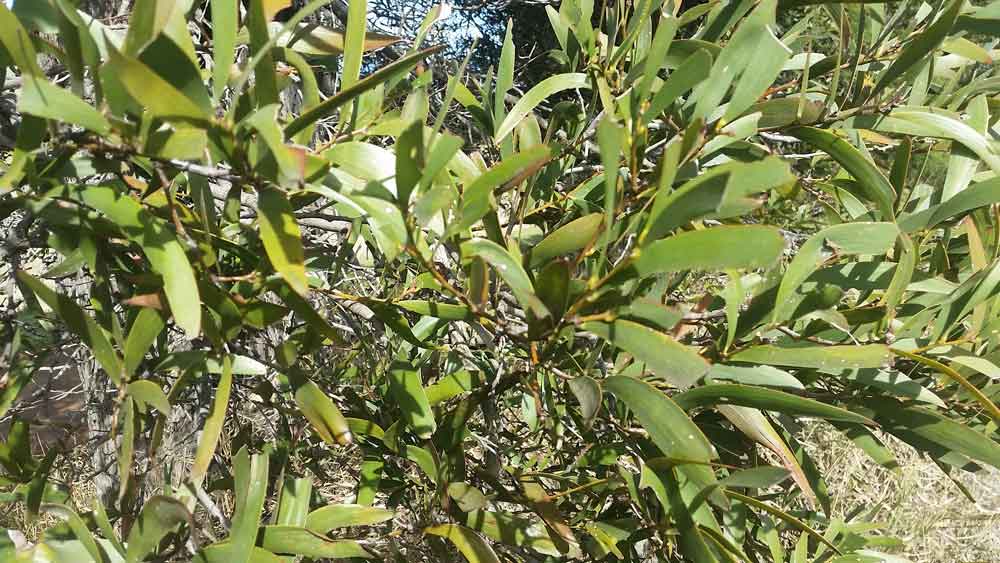 Expand the endangered Brigalow scrub ecosystem to provide habitat for endangered fauna, reduce salinity in the waterways to protect riparian biodiversity, provide timber and jobs for future generations, and reduce soil salinity on the alluvial flats in the catchment to provide the opportunity to increase food production.
The location of the revegetation project along the Teviot range will also create a wildlife corridor from Mt French to Flinders Peaks.  As Brigalow scrub soil is fertile, vegetation will sequester high amounts of carbon per hectare in the dense biomass of Brigalow scrub.
Including leguminous plants in the revegetation mix will fix nitrogen into the soil; N2O is a greenhouse gas 300 times more potent than CO2.  As there is only 116ha remaining of local Brigalow scrub (regional ecosystem 12.9-10.6) each hectare established represents a 0.9% area gain.
Trees Land Carbon is currently identifying locations for the revegetation.  Landholders who have existing Brigalow scrub or would be interested in providing land for new plantings are encouraged to get in contact.
---
Native Forest Management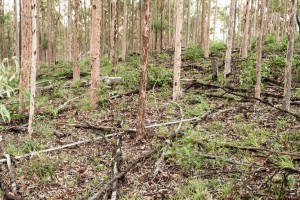 Native forest provides both timber products and habitat for birds and animals.  The locally grown timber products range from firewood, fencing split posts and strainer posts, house building timber and flooring, to high value veneer logs, bridge girders and power poles.
New industries are emerging for biomass energy and biofuel.  Trees Land Carbon has undertaken numerous native forest thinning projects to encourage the growth of large high value saw logs.
Native forest activities are required to follow the new self-assessable vegetation clearing codes: Managing a native forest practice, and Thinning in the South East Queensland and New England Tableland bioregions.
A well-managed native forest can provide future farm employment and alternative income from sustainably grown timber products, at the same time as providing a grassy understory for grazing animals.
---